Harvesting olives is a practice as old as time, perhaps as old as the history of growing and cultivating olive trees themselves. While olives were used in their own right, olive oil was the more sought after by-product.
So come take a stroll through time with us, as we walk you through the journey of olives from field to table.

Historical Means & Methods
According to historians, the olive tree is one of the oldest known to have been cultivated. Unsurprisingly, harvest and milling processes had humble beginnings.
In fact historians have found evidence dating back to thousands of years ago. According to them, it all started when primitive men simply crushed fallen olives on the ground, and noticed an oily substance moinstening their rough skin. Over the years, harvesting and processing were exported all over the world as a consequence of the cultivation of the olive tree.
Historians have found evidence of milling technology in Cretian family farm homes, which were dated back to the Bronze Age, specifically 5000 BC. Upon further research, they found out that individuals used to harvest and squeeze olives in stone mortars in their own homes.
As for the processes, olives were first either harvested by hand, or beaten off the tree. Then, they were washed and crushed to remove the pit.
Hot water was added to the remaining flesh and they were crushed into a paste using a stone mortar, ending up with an olive paste that would accumulate in "inclined stone bassins". The hot water and olive oil mixture pour out into a separation vessel from the bassin, and the remaining paste would be discarded. Finally, the settled top layer of olive oil is collected and stored in large porous clay pots, while the olive water waste was also discarded.
Similar tools were found around the Mediterranean sea, such as Palestine and Cyprus. Wooden shoes were also used to crush olives. In fact, once the methods were established, mill owners would unknowingly search for olive varieties with higher fat, for maximum extraction.
Olive oil production peaked under Roman reign, with "industrialized" oileries seeing the light all over the Mediterranean basin. Estimated production at the time adds up to astronomical amounts, around 40 million of which was produced in Tunisia.
In the years following the fall of Rome, olive oil was still made using the stone milling and settling and separation techniques. The milling process was particularly difficult and required great physical strength. It was only 300 years ago that it got easier, thanks to the discovery of the rotating wheels that were maneuvered by cattle, such as horses or cows.

Back to the Present:
Nowadays,the harvest and production processes are a more scientifically supported affair, although some traditions have persisted over the years.
Timing is Key :
The harvesting season begins in October, and in some regions stretches as far as January.
Farmers must closely follow the growth of their olive crops, and accurately predict the period during which the properties of the olives will shine through best. While other decisive factors such as soil composition and irrigation can be monitored and influenced through the growth process, correctly deciding when to harvest is crucial. Overall, the size, shape and color of the olives are the farmer's queues to decide.
Many would in fact say that the quality assessment process starts from the harvest, as acidity, color and flavor profile will vary depending on harvest timing. In fact, research has found fruits harvested early generally result in a more pungent olive oil with bitter notes and a high concentration of polyphenols.
Additionally, harvest time will affect olive oil yield in volume, since earlier harvests tend to result in less olive oil of considerably high quality.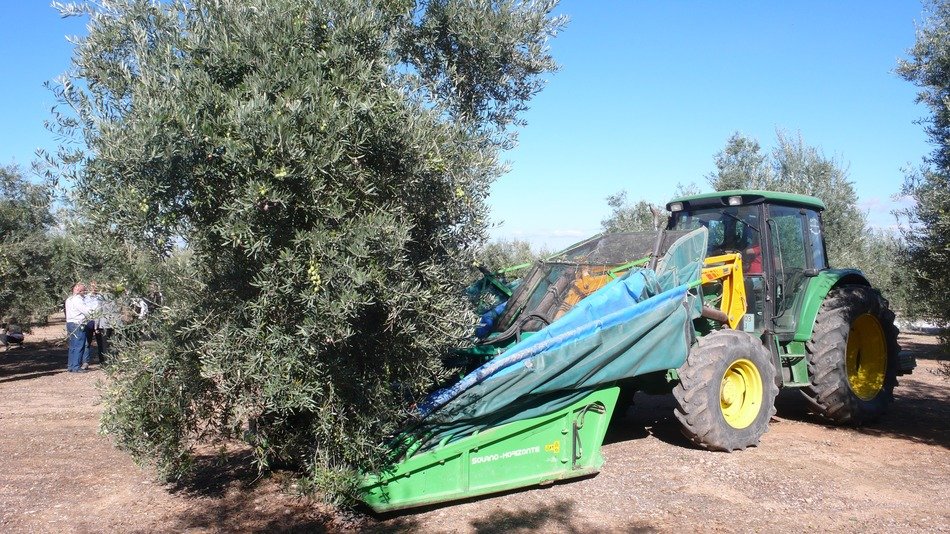 Harvesting & Processing :
While some still take the time to do it by hand, others prefer to harvest olives using modern technology, namely brand shakers or pneumatic combs. The yield is then transported to mills within 24 to 48 hours from picking, to avoid oxidation and development of chemicals that would affect the acidity, and therefore the quality of the oil.
The olives are separated from branches and leaves, then washed with water only. A crucial thing to keep in mind when producing olive oil is that heat alters the quality of the final product. As such, the olives are cold-pressed into a paste, malaxed, then centrifuged to separate the oil from the liquids. The oil is then stored in large tanks with a particular shape. Finally, the olive oil's composition is analysed to ensure set quality objectives are met.

Now that you have an idea about how a typical harvest takes place, from start to finish, next time we'll walk you through how we do it at Olyfo, from farm to table.
In the meantime, take a look at our selection of olive oils and do not hesitate to contact us.